Capture the right data to compete in the age of disengagement.
Engagement surveys and focus groups are necessary but not sufficient to get to the heart of your employees' engagement metrics. We designed our own methodology and unique technology that gets unfiltered insight into your employees' real experience. Listening with Assess360 starts a conversation with your employees so you know how to create a culture where employees want to stay.
It's Always The Right Time to Listen

Don't wait until you start losing hard won talent to discover vulnerabilities in your organizational culture. But how can you be sure you are getting the feedback you need?
Employee voices are the cornerstone of Assess360.
"Holding one Employee Voice Session℠ is like conducting sixty one-on-one interviews at once. I've never seen another tool that can gather employee insights in such an engaging way."

Chief Culture Officer, Global Insurance Company
Employee Voice Session (EVS)
Our Employee Voice Session (EVS) technology brings rich qualitative stories that breathe life into the numbers and put heart behind the metrics.
Our virtual listening sessions engage all employees, giving them a psychologically safe, anonymous solutions-oriented forum.
EVS leverage the best aspects of focus groups with the reach of engagement surveys to get you reliable employee feedback on an actionable scale.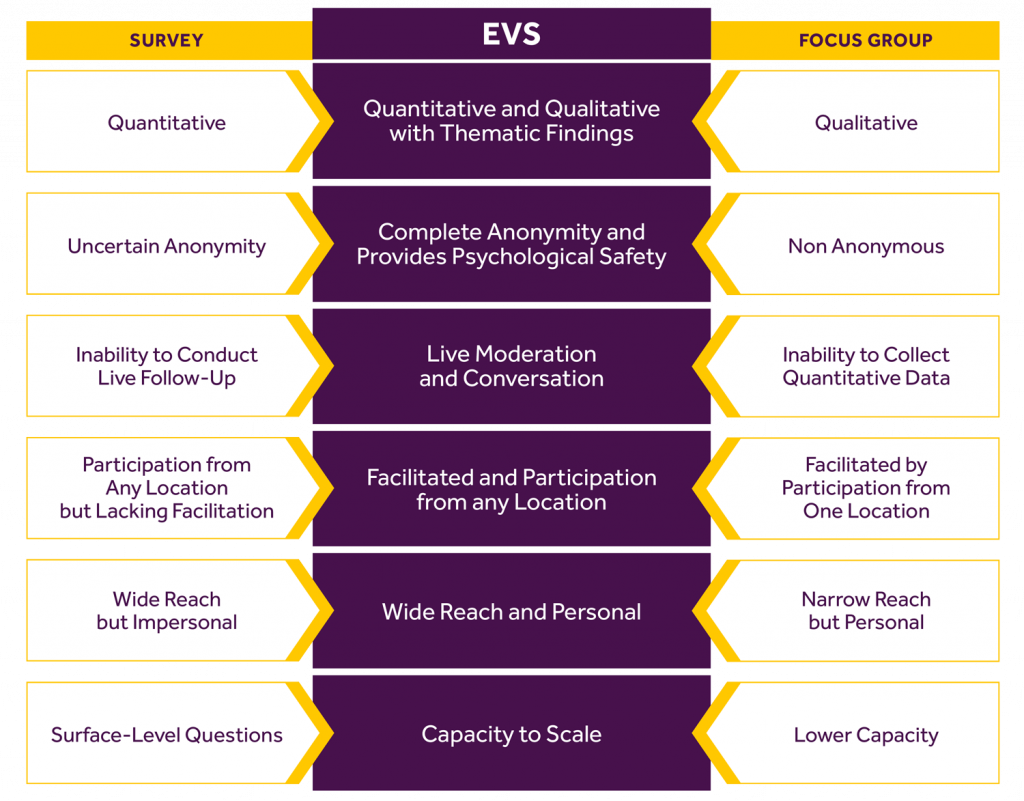 Engage all of your employee stakeholders for change .
To shift the paradigm, stakeholders must engage with your change management strategies, early and often. With Assess360, we bring your stakeholders on board from the beginning, so they feel like an integral part of the progress. We empower you to architect solutions that risk-proof your culture and provide a foundation that can weather any storm.
Make a plan for the future.
Our experts employ rigorous analyses to uncover top actionable findings and engagement drivers from the EVS sessions. This nuanced, data-rich employee portrait illustrates motivators, career expectations, and success factors to guide recommendations across targeted talent cohorts. We make the data easy to understand and share, ensuring your stakeholders are on board from the beginning and feel like an integral part of the solution.
Our Solutions
No matter what opportunities we discover, we have solutions to address them with you.